Villa Fernandina- this is what the Spaniards christened this beautiful and quaint city up north, the capital of Ilocos Sur.
An island gifted by a rich Spanish colonial past, magical cobblestone streets, ancestral homes and a UN World Heritage site (Heritage Village) - Vigan.
My father's parents are based in Vigan. He used to have this beautiful street as a playground. But for a person who wants to find a greener pasture, my father in his teens, boarded a bus to Manila, studied in Manila, established his life there, met a Batanguena woman and got married in Manila. And now, my family considers Manila as our home at present.
So yes, this trip was doubly special because it was a "coming home" of my father who hasn't been back to his hometown Vigan after a number of years. And personally, this is my coming home too since I've only been in Vigan thrice since I became an adult.
Enchanted Cobblestone Streets
Stepping into the Vigan Heritage Village is an out of this world experience. The streets, albeit old and ancient, are full of people and alive.
In the morning, the whole street becomes a bazaar showcasing impressive Ilocano handiwork and craftsmanship in every product. Bags, handicrafts, souvenirs, can be seen here. To shoppers, there will be endless rows of goodies to be bought all in reasonable prices.
At night, the beautiful streets in the Heritage Village are illuminated by glowing lights from old-fashioned lamp posts and the soft light transforms the street into an even quainter, lovelier version of itself.
Vigan Foodtripping
For foodie travelers, Vigan is heaven! You can even create an itinerary for food tripping alone! Yes commercial establishments like Mcdonald's and KFC abound, but along the gracefully aging streets you will find a native delicacy that you'd definitely like to sample or even take home!
Vigan Longganisa
A kind of
longganisa
(sausage) that has a yummy yet strong flavor, savory, sour and garlicky! The perfect breakfast meal would be Vigan
longganisa
, fried rice, egg and a cup of strong coffee! I brought home packs of these. And yes, this will always remind me of Vigan.
Vigan Bibingka
Compared to the
"Simbang Gabi"
bibingka (fluffy,soft and mild), Vigan bibingka is more dense, and has a stickier texture. I think I can compare Vigan bibingka to
tikoy
than with the bibingka we have in the metro.To eat, you can reheat it in the microwave or you can also coat it with raw egg and then fry it.
Vigan Chicacorn
This is a Vigan delicacy - salty and more delectable than the
sari-sari store
cornik
we munch on.
Vigan Empanada
I've discussed this yummy deli with detail in this entry -
Food: The Empanada Battle
. Yes, the
empanadas
up north are worth a separate discussion altogether!
Bagnet
This is a delicacy that is sinful to the core!!! This is basically your slab of pork which was boiled and then deep fried to the height of its crispiness.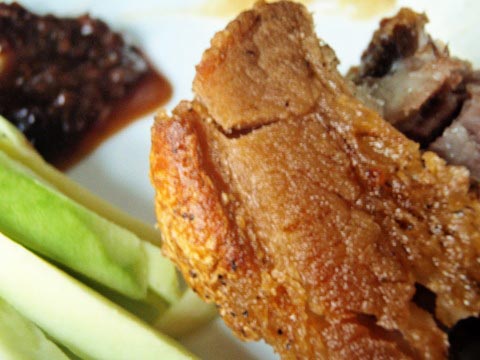 Apart from these delicacies, there are a number of dishes that originated in Vigan (and the whole of Ilocos) which found their way to national cuisine. There are: Pinakbet, Diningding, and the recent dish that's being appreciated by non natives: Poqui Poqui ( grilled eggplant which is minced and mixed with egg).
Hike it up in Vigan for the weekend and you will surely end up in foodie heaven.
The Ilocano People
The Ilocano's, are a gentle people. Physically, they are often dark-skinned or moreno, have round deepset eyes and round face.
They are known to be
kuripot
or really stingy. I myself is a first hand witness to this - my father is the epitome of stinginess! However, this trait is not as bad as others perceive it. Ilocanos believe that there are things in life that really matter apart from being too proud and being wasteful of one's money.
They are not a proud people. They may look simple and down to earth to the point of looking downright impoverished, but you would be surprised to learn that they actually own rolling fields and expanses of wide land.
And the owners themselves till these land themselves. The Ilocanos are real hardworkers. As long as they are capable no matter what age they may be, they will continue to work hard for their family.
In the end, stepping on the cobblestone streets of Vigan, I felt like joining my people.
The feeling that you are a part of an entire group of people who share the same thing that you have is powerful. A homecoming of some sort, and that felt good. And coming from this part of town, (albeit only by virtue of blood relations), makes me proud.
some photos from
here
,
here
,
here